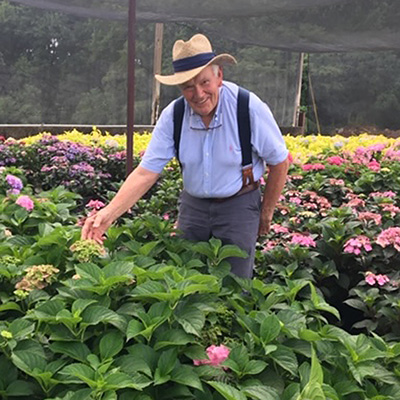 Hydrangea Farm is Mal & Mary Kay Condon. We are collectors, propagators, growers, and nurturers of this popular woody ornamental landscape shrub with its marvelous blooming form, color range, and long-lasting quality. A passion for more than 40 years, our extensive collection of hydrangeas now includes 9 species and over 200 different varieties.
Nantucket Island was our home and growing operation for many years but in 2014 – in an attempt to 'retire' from our commercial operation – we relocated 'The Farm' to Yarmouth Port on Cape Cod.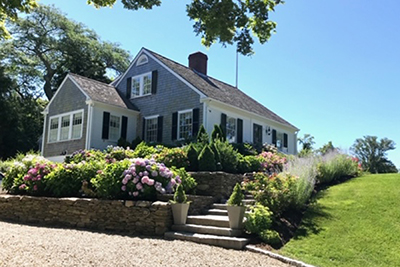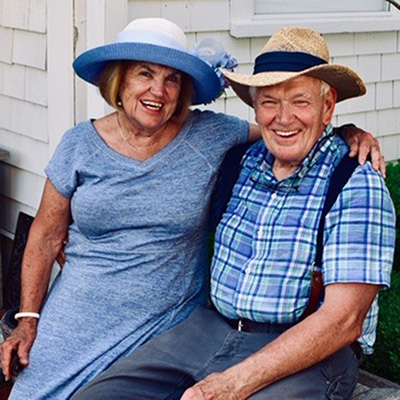 Our new location was and is a lovely mature setting. Fortunately, it was also a 'blank canvas' from a landscape perspective when we arrived. Needless to say, we have been very busy creating a significant new garden. While much has been done, a few 'new ideas' take root annually, totally supporting Mal's strong belief that a worthy garden is indeed a work in progress throughout a gardener's lifetime.
As true custodians of the genus, we're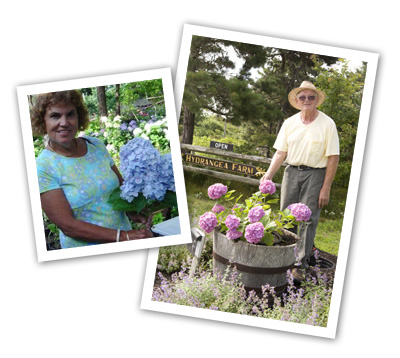 Constantly searching for new plants, revisiting forgotten cultivars, and collectively trying to develop a few new prospects. Our primary focus – always – is on the landscape worthiness of each plant we examine. A lifelong gardener, Mal has always loved the genus hydrangea and began collecting plants from his extensive travels during his engineering career. Ever the engineer, he brings a strong technical and investigative nature to the continuing development of the genus. Long a noted speaker in his former business career, 'The Hydrangea Guy' has become a well known presenter of the many virtues of his favorite genus to gardening audiences in hydrangea-centric locations world-wide. Check out our Lectures pull-down to see where Mal might be speaking near you. Mary Kay is the other valuable half of this hydrangea team. She very ably handles a wide variety of critical nursery activities – from the 'regular' jobs like potting, pinching/pruning, and weeding – to being a workshop demonstrator, tour guide, and lecture reviewer.
Although Mal has stepped away from nursery and plant production activities, he accepted some challenging new involvements soon after relocating to Cape Cod. He became Vice-President and then President of The Cape Cod Hydrangea Society, and continues with the society's stewardship of the genus all over the Cape where hydrangeas are the quintessential 'woody ornamental' in so many gardens. And this has lead to a very favorable coordination of all his cumulative knowledge as Mal is now the Curator of Hydrangeas at Heritage Museums and Gardens in Sandwich, MA – the historic community just across the Cape Cod Canal.
Heritage is a marvelous public garden and Mal is the 'hydrangea whisperer' for all things hydrangea on the property including the Cape Cod Hydrangea Society's extensive Display Garden and the newest and very substantive North American Hydrangea Test Garden. Heritage continues to expand their hydrangea presence and magnitude of current collections. This is an already well-known rhododendron trust. Now, with the hydrangeas being superb 'rhodo' companions,  the garden has become a blooming bonanza from early May thru August, and on into the 'antique' hydrangea bloom season of September and October. So do plan a visit to Heritage which is open from late April 'til mid-October.
One of Mal's creations at Heritage is the 'Hydrangea Success Series' – These are lecture / workshop events covering cultural topics like Pruning, Planting & Replanting, Irrigation for Home Gardeners, Plant Propagation, Container Growing, Companion Plant Selection, and Winter Protection Techniques. The programs are offered seasonally throughout the growing year. Do check out the Heritage website for details – www.heritagemuseumsandgardens.org